About Sacred Truth Publishing and Ministries 
     Since 1990 Sacred Truth Publishing and Ministries has been researching, writing, and publishing its own books (over 50 now) and reprinting many hundred old, rare, out of print books. 
Convictem — Illuminare — Inspiro — Reconcilio
"...build up the ancient ruins... raise up the foundations of generations past... and thou shalt be called the Repairer of the breach, the Restorer of the safe and prosperous paths of life..."
(Isaiah 58:12)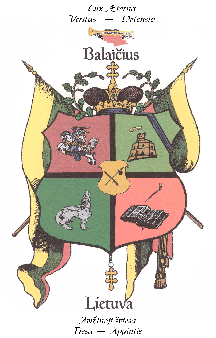 Robert Alan Balaicius* (the founder and director of STM) is of Lithuanian, German, Pennsylvania Dutch (Swiss, German & Dutch Mennonite), Norse, Gothic, Frankish, English, Irish, Scots, and Welsh descent.  He has been in full-time ministry since 1990.
* An easy way to remember how Balaicius is pronounced (at least, in English), is that it rhymes with the last book of the Old Testament, Malachi; thus Bala-chi-us.

 

Note: the heraldry at the right is not any official family coat of arms, but a coat of arms that I put together using the national symbols of Lithuania, in addition to the Bible and a flaming torch above it.  The motto (in Latin Lux Æterna — Veritas — Defensio at the top,  and in Lithuanian Amžinoji šviesa — Tiesa — Apgintis at the bottom) translates:

 
                                              Eternal Light
                                          Truth  —  Defense
     Though we will continue to add more titles to this webpage, we will not be listing all of the titles here which we offer. 
     STM's full catalog contains over 6,000 titles, is over 200 - 8.5x11 pages and is available for a donation of 5.00 + P&H. 
Our catalog is so extensive that some people consider it part of their library; a vast bibliography.  Plastic comb-binding of the catalog itself is available for an extra 1.50.

 
__________________________________________________
Ministry Services
- Reproduction of older, out of print, copyright expired works.

- Cover design (and development of "unofficial" coats of arms), posters, and other graphic arts.

- Layout, type-setting, editing, and publishing services.

[Inquire if interested in any of the above services.]