ORDER INFORMATION:
We do not take antichrist papal Paypal. 
Certain financial institutions / services are blatantly and unconstitutionally discriminating against traditional Christians who hold to moral values upon which our nations were established, and against those whom they deem to be politically incorrect, or against those whose faith and beliefs and religion and racial / political / religious views they hate, and such institutions and services have violated the law and discriminated against such people who have no recourse to legal action because an individual can not go to court against a billion-dollar corporation and win.  "Justice" is for sale and it goes to the highest bidder.  This is what our nation has been reduced to; the nation that was once the light to the world is now a corrupt socialist elite-ocracy.  This is economic terrorism.  They are trusting in the fact that the average person who claims to care about the truth, the average person who claims to be a Christian, will be too lazy to stick a donation, tithe, or book order in the mail, because it is simply too strenuous and inconvenient to put a stamp on an envelope and stick in the mail box.  So they hope to cripple ministries that boldly stand for the truth, knowing the majority will be too indifferent to stand with them, if they can't simply punch a button on the computer; and so Christendom may fall because they won't support those who are standing up for Christendom... all because it is "too inconvenient" for them to conduct their affairs through the mail the way people did for hundreds of years.  You reap what you sow.
Note: This site is not set up with a shopping cart or basket. 
- If you want to order, and are unsure of the total or shipping cost, email us directly concerning the titles you would like to order (copy and paste into your email) and we will give you a total including shipping (include your address) and you can send in your order/donation by regular mail addressed to:
Sacred Truth Ministries
P.O. Box 18,
Mountain City, Tennessee 37683
Christian Constitutional Republic of the United States of America

The shipping prices for outside the U.S. are below, but I will need to know what titles you want to know if they will fit in any given flat-rate mailer and not exceed the weight limit.
Sacred Truth Publishing and Ministries may be contacted by email at:
Use the first email address; it is the main email address and the only email spam folder that is checked on a daily basis.  The second email address spam folder has spam reports issued once a week, so if it goes to the spam folder if you use the second address, it won't be noticed for a week.
[Put (copy and paste)
"book query from sacredtruthministries.com"
as the subject of the email in case it goes to the spam folder.]
NOTE ALSO: If you send an email, LOOK for a reply.  LOOK in your SPAM folder.  EACH AND EVERY email is answered in a TIMELY fashion...  EXPECT a reply and look for it if one does not appear in your inbox.
If you appreciate the information (health or otherwise) contained at this site, please inform your friends/family about our site, and email us a short note and let us know you appreciate the info contained herein; it takes a great amount of time—even longer with dial up—to produce all this, and of course it is always nice to know it is not wasted time).  Also consider becoming a supporter and/or also pray for us.  Thank you.  Robert
 ____________________________________
Postage & Handling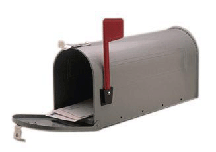 All orders will be shipped "Library Rate" unless other arrangements are made (usually Library Rate only takes a week or so anywhere within the Continental U.S.).
P&H for orders in the U.S. via Book Rate 
= 10% [4.00 minimum]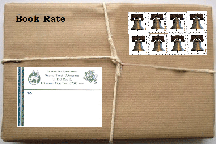 For Priority shipping or UPS shipping in the U.S. e-mail for quote.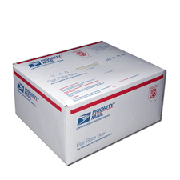 Shipping rates outside the U.S. are as follows: 
Outside U.S.: P&H:
Priority Mail International estimated delivery time is 6-10 days (nonpadded flat mailer; cannot exceed 4 lbs.; about 1100 page max. of regular size paperback books or about 200pp. 8.5x11 material—but no room for any packing material; may be some room for padding if only 600pp. of regular sized books are ordered. Books may get a little dinged up in these.)
 The postal "service" recently raised its rates outside the U.S. (after having already raised them several and done away with all surface mail)

Note: these are flat rate priority, the evelope is the same price whether it has 1 book in it or as much as can be stuffed into it not exceeding 4 lbs. in weight.  Likewise for both boxes, the price of either box as listed below does not change whether there is one book in the box or it is stuffed to capacity not exceeding 20 lbs. weight.  Thus, it behooves you to order as much as will max out the capacity to get the best shipping value.  I will take the extra time to let you know how much more may fit in a box so you can get the best value.  When a box is maxed out like that, however, there is often little, if any, room for padding material to protect the books from getting a little banged on the corners.  I will always do the best I can.  Of course if there is a lot of room in the package, I will pad it sufficiently.  Therefore, if you have a proposed order, email me directly and I will work with you to try and fill the package in a manner that offers you the most efficient ordering for the outrageous post office shipping prices.  Robert
 Canada:
Priority Flat-Rate Envelope = 24.00.
Medium-size Priority Flat-Rate Box (2-3 days) = 46.00.
Large-size Priority Flat-Rate Box = 61.00.
[packages disappear to South Africa, or sometimes take 5 months even though it is supposed to be 10 days.  South Africans assume all risk in ordering.  Packages cannot even be insured to South Africa.]
U.K.- Great Britain / Europe / South Africa / Australia / New Zealand:
Priority Flat-Rate Envelope = 34.00.
Medium-size Priority Flat-Rate Box = 76.00.
Large-size Priority Flat-Rate Box = 96.00.
CANADIAN / EUROPEAN / SOUTH AFRICAN FRIENDS:
You assume all risk ordering any books your gov't may ban.
Our apologies for the high cost of shipping, however, incompetence and corruption does not complement a true free market system and thus, prices will always be unreasonable as long as the wicked rule.