Some terribly deluded but well meaning people who consider themselves "Christians"—while denying the greater portion of the Word of God and not understanding the portion they choose to accept—replied (with a string of disjointed, out of context Bible verses) to a very brief post I had made at Facebook.  I replied in-depth (this person never replied). I will first offer what started it.
------------------
My initial disagreement was with the below poster that someone had posted at Facebook (to which a plethora of liberals who think of themselves as "Christians" heartily amened).  Some warm-fuzzy, aura-fluffing preacher of "Cotton-candy Christianity" who put this together says we should "forgive without punishing", and listed a Bible verse as his support; though the verse says nothing of the sort.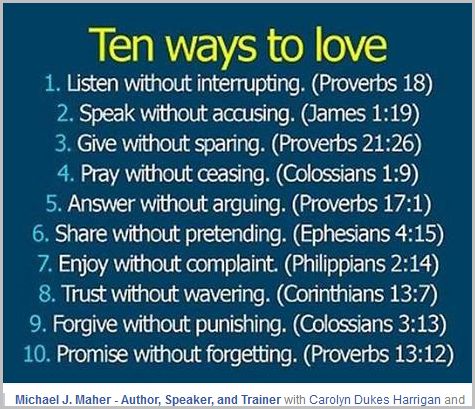 The passage reads:
"Forbearing one another, and forgiving one another, if any man have a quarrel against any: even as Christ forgave you, so also do ye."
The passage infers nothing about revenge or punishment.  The passage refers to being longsuffering and being understanding of the imperfections in our kinsmen, knowing that we ourselves are likewise imperfect and that Christ is longsuffering and patient with our weakness.  
Punishment refers to crimes.  The false thought put in people's heads with the above poorly conceptualized point #9 will lead some less-astute minds to think that God does not demand Judgment of criminals and that therefore, neither should we.  If anyone robs, rapes, or murders us, we should simply smile and say, "Jesus loves you".  However, when the fear of judgment is removed, criminals breed like rabbits.  God has things to say about those who pervert Justice!  God also commands concerning His enemies that we not seek their peace or prosperity forever.  We are not to treat God's enemies, aliens, as we treat our kinsmen.  God put a distinction and so should we.  God commanded, "Be holy, for I the Lord thy God am Holy".  Part of that holiness entails separation and part of that holiness requires Judgment.  Sin, like disease, termites, or a fire, if not properly dealt with, will only spread and engulf the whole.
Similarly, in Scripture, God tells us that while we can and should forgive our brethren (converted kinsmen) who trespass against us, we cannot have fellowship with them or help them in their time of need or even "show"* love to them if they do not repent of their sins.  Sin bears consequences.  God established those consequences to teach us not to sin.  To remove the Judgment is to remove the average person's motivation to obey.  Thus, to not require judgment of someone who has not repented (or whose "Jail House repentence" is dubious) is itself immoral!  If a criminal is simply "forgiven" and Judgment not required, if that person goes out and commits another crime, victimizing someone else—that person who waived the previous Judgment is an accomplice in that criminals future crimes!  Even as between us and God, God still loves us when we sin, but He cannot hear our prayers, or deliver us from our troubles, or bless us, if we do not repent of our sins.  That is the purpose of Judgment.  To chasten us to repentace to bring us back to the position of fellowship and sonship in which God can bless us.
[* Not showing love to a person in the way he may want to be treated is not hate.  "Tough love" is love nonetheless.  If a parent lets his child only eat what he wants... ice cream, candy, cake, cookies, donuts, soda... that is not love.  It is hate.  The child will not only be sickly and obese, but he will develop a defective personality that demands what he wants, and be a self-aggrandizing narcicist who will throw a temper tantrum when he does not get his own way.  Similarly, God Himself declares, "He that spareth his rod hateth his son: but he that loveth him chasteneth him betimes" (Proverbs 13:24).  Perverse indulgence is not "love".  One can love someone but not be able to display that love because of the other's evil actions.  Only a perverted sense of "love" for another person supercedes love for God which entails obedience to God and morality and righteousness.]
-------------------
This person had also had posted this below disjointed message, with the incongruous, confused, and duplicitous picture below it:
Psalm 122:6 - "Pray for the peace of Jerusalem: May they prosper who love you."
Matthew 24:20 - "And pray that your flight may not be in winter or on the Sabbath."
Luke 21:28 - "Now when these things begin to happen, look up and lift up your heads, because your redemption draws near."
Luke 21:36 - "Watch therefore, and pray always that you may be counted worthy to escape all these things that will come to pass, and to stand before the Son of Man."
Romans 11:25 - "For I do not desire, brethren, that you should be ignorant of this mystery, lest you should be wise in your own opinion, that blindness in part has happened to Israel until the fullness of the Gentiles has come in."
Matthew 9:38 - "Therefore pray the Lord of the harvest to send out laborers into His harvest."
1 Thessalonians 4 - "15For this we say to you by the word of the Lord, that we who are alive and remain until the coming of the Lord will by no means precede those who are asleep.  16For the Lord Himself will descend from heaven with a shout, with the voice of an archangel, and with the trumpet of God.  And the dead in Christ will rise first. 17Then we who are alive and remain shall be caught up together with them in the clouds to meet the Lord in the air.  And thus we shall always be with the Lord.  18Therefore comfort one another with these words."
------------------
This "Peace of Jerusalem" quotation was followed by a picture of and quote by Golda Meir (1898-1978) [Fourth Prime Minister of the State of Israeli, formerly Golda Meyerson, born Golda Mabovitch in Kiev, Ukraine.]  I will show and deal with this later, but did not respond to it in my initial reply to this "Ten Ways to Love" and "Peace of Jerusalem.  Concerning this string of verses,I replied:
Pray for the peace of Jerusalem does not mean pray for the wicked enemies of God who have taken over the land of Israel masquerading as God's true people.  God true people are in reality the Anglo-Saxon and related peoples of Christendom; who were scattered over the globe in fulfillment of God's Prophecy because of their / our unrepentant sins.  God scattered us but promised to regather whom He scattered (He scattered wheat, He will not regather thistles and tares).  That regathering was begun when the disciples began taking the Gospel to the Greek city-states throughout the Mediterranean coast (in Syria, what is now Turkey, Greece, Macedonia, France, Spain, Italy, Sicily, Cyprus, and North Africa).  These colonies were founded by Greece and were peopled by Greeks (though the colonies were eventually overrun with Turks, Africans, Arabs, Edomite-Jews, etc.; and the ancient Greeks replaced by Turks).  Despite Roman paganism and barbarian persecution of Christians, and 1,400 years of Islamic / Moorish / Saracen / Mongol / Hunnish invasions of Europe, civilization prospered when God's scattered Israel (Anglo-Saxon, Gothic, Baltic, Scandinavian, Slaviv, Celtic, Brythonic and related peoples) returned to God.  However, after seasons and cycles of prosperity and judgment we have again reached the cycle of judgment because we took our prosperity and blessing for granted and violated God's Commandment to remain separate from other peoples, not to intermarry, not to seek their peace or prosperity, not to learn their ways or recognize their gods (which includes allowing their temples to be build in our lands) and to be holy unto God.  We allowed antichrist foreigners to come in among us and change our laws to violate God's and we have become end-time Babylon the Great (Babylon means, "confusion by mixing").  God is chastening us with our enemies, until like the Prodigal, we truly repent, humble ourselves, and return to our Father and beg for mercy and forgiveness.  As we have absorbed the rest of the world, Christianity has been more and more corrupted to the point that it now faces extinction, so how can you continue believing the delusion?
Pray for the peace of Jerusalem refers to "Thy Kingdom Come, Thy Will be done, on earth as it is in Heaven".  However, there can be no peace until the Prince of Peace has returned and He will not return for a rebellious, self-willed, headstrong bride unwilling to submit herself to Him; so he waits, as He did while Peter sinking in the water—until His people cry out "Lord save me!"  There can be no peace in Jerusalem (symbolic of God's seat of government on earth—which does not refer to the current inhabitants, the Edomite-Canaanite imposters) until God's true people humble themselves, repent of their sin, and Christ returns and then cleanses His Temple.
------------------
This person who posted these pictures and initial cotton candy messages commented on my post above:
"Very technical Robert Balaicius? the better word might have been revenge?...Jesus will come to Judge?  Romans 3:23 - for all have sinned and fall short of the glory of God, John 1:29... - "Behold!  The Lamb of God who takes away the sin of the world! Romans 8:1 - There is therefore now no condemnation to those who are in Christ Jesus, who do not walk according to the flesh, but according to the Spirit.  1 Corinthians 4:5 - Therefore judge nothing before the time, until the Lord comes, who will both bring to light the hidden things of darkness and reveal the counsels of the hearts. Then each one's praise will come from God."
God's heart always is 1 Timothy 2:4 who desires all men to be saved and to come to the knowledge of the truth. therefore Mark 16:15 - And He said to them, "Go into all the world and preach the gospel to every creature. we serve a God of Love, and 1 John 4:18 - There is no fear in love; but perfect love casts out fear, because fear involves torment.  But he who fears has not been made perfect in love.  The question is this: Can we love people perceived as enemies to pray for their losts souls?
43 "You have heard that it was said, 'You shall love your neighbor and hate your enemy.'  44 But I say to you, love your enemies, bless those who curse you, do good to those who hate you, and pray for those who spitefully use you and persecute you, 45 that you may be sons of your Father in heaven; for He makes His sun rise on the evil and on the good, and sends rain on the just and on the unjust. We have to understand who the "enemy" is....Ephesians 6:12 - For we do not wrestle against flesh and blood, but against principalities, against powers, against the rulers of the darkness of this age, against spiritual hosts of wickedness in the heavenly places.  The conclusion is this: Hate the sin, but love the sinner enough to pray for the lost souls... get it?
------------------
My replies:
No verse of Scripture is an island unto itself and cannot be taken out of context.  "Love" outside the moral boundaries that God established, is not love, but immorality and perversion (regardless of the object or venue: what God outlawed remains iniquity if the boundaries are violated—regardless of what any modern court or perverse denomination votes upon to change what God has declared).  Christ told us to love "our" enemies—not God's.  Our enemies are our kinsmen with whom we may be at odds (personality conflicts; not criminal activity).  We are not to love God's enemies, because we are to love what God loves and hate what God hates, as David expressed, "Do not I hate them that hate thee?  I hate them with a perfect hatred.  Search my heart and try my thoughts and see if there be any wicked way in me."  
God commanded us to be separate from those who are not our kinsmen.  Amalgamation is the philosophy of evolution and communism and it is rebellion against God.  Amalgamation is responsible for not only most of our woes, but also those of our ancient ancestors the Israelites.  When Israel committed whoredom with alien peoples—which God forbade them to do, that is what brought God's Judgment.  Offspring of aliens God rejects forever.  God is Immutable, Holy, and Perfect.  He cannot change.  His Standard of  Holiness cannot change: He commanded us, "be holy: for I the Lord thy God am Holy".  God separated us from all other people even as He separated clean from unclean animals... not nilly willy, not eenie, meenie, minee, moe, but by design.  God predetermined all things. He is Ominipotent and Sovereign. Christ first commissioned the disciples locally, "Go only to the lost sheep of the house of Israel"—for that was solely to whom Christ was sent.  The Second Great Commission was to the very same people, but worldwide: "As the Father sent Me [to the lost sheep of the House of Israel] so send I you".  The mission was the lost sheep.  The angel said to Mary, "You shall call His Name Yehoshua [Jesus]: for He shall save His people from their sins".  God scattered His people Israel throughout all the kingdoms of the world due to their unrepentant sin, but He promised to regather—regather whom He scattered.  If the Bible is taken out of context it cannot be understood and it actually will pervert and undermine the true message and Christ said "He that is not with Me is against Me and he that gathereth not with Me scattereth abroad" (that is, if you are not of the same mind and are doing something other than what He commanded, thinking that you are serving Him, you are actually working against Him as an enemy).
Christ did not bless the Edomite pharisees or love them.  He exposed them as being of their father the Devil and He said to them "you cannot hear my words because you are not of my sheep" and "ye cannot escape the damnation of Hell".  The vessels of wrath were created for destruction and the wicked for the day of Evil (Judgment).  The God of the New Testament is the same God of the Old Testament and He is not a "nicer guy" now that He is on prozac and taking anger management courses and sensitivity training.  Those who think that He is different do so because their minds are perverse and they believe in a God other than the Bible.  God is Immutable.  He changes not.  He does not wear rainbow colored glasses nor does he accept thrust into His family those who are not His family, nor will Christ be forced to accept a bride that is not His, of another people.  
Every verse must be understood in context.  You don't throw out all previous verses because you think some more recent verse says something different.  The Old Testament has no "expiration date" on it; it does not go bad like a cucumber forgotten in refrigerator.  It is as fresh as the day God gave it because the Word of God is alive (not dead)—all of it: it abideth forever.  Those who pick and choose which verses they want to believe ("Smorgasbord Theology") are guilty of considering themselves to be their own god: for if they are the ones who determine which verses they will believe, God is not their Lord; they are their own lord.  Lord means master and that means to accept everything that He has declared.  Christ Himself said (quoting the Old Testament, "It is written, Man shall not live by bread alone, but by every word that proceedeth out of the mouth of God" (Matthew 4:4).  Every word.  None of them "go bad" or "expire".  More recent verses must be interpreted and understood in light of previous verses which set the Standard.  
To confuse the good guys with the bad guys in any story (or real life) is not only confusing but dangerous.  Christ came unto His own.  A Kinsman Redeemer can only redeem those of the same people, of the same tribe and if he is the very closest of kin willing to redeem.  God changes not.  His Word changes not.  Man does not choose God. God chooses man.  God chose one people and one people alone and the chose the elect from that one people.  Those whom God chose are conformed to the Image of Christ.  Those who are not chosen are not so conformed.  "By their fruit ye shall know them"; but there is also counterfeit fruit.  The counterfeit fruit is believing the lie of the Serpent which is anything that is contrary to what God already said.  The "whosoever will" in Scripture is referring only to those to whom Christ intended His message: the lost sheep of the House of Israel.  God said that He closed the eyes, ears, hearts, and minds of all and opens those only of the elect.  Christ spoke in parables because it was not given unto all to know and understand and hear and be saved.  That's what Scripture says—the New Testament (of course, that may be a verse that the Smorgasbordians scrape off their plate and into the garbage).  God is sovereign, not man. True Christianity recognizes and bows before the Sovereignty of God.  God did not write His Word to please man.  Man is to submit and conform to what God commanded and revealed in His Word.  Anything less is humanism.  
"16All Scripture is given by inspiration of God, and is profitable for doctrine, for reproof, for correction, for instruction in righteousness: 17That the man of God may be perfect, thoroughly furnished unto all good works." (II Timothy 3)
All Scripture is profitable for doctrine, reproof, corrections, and instruction in righteous living.  All Scripture.  None is obsolete.  
"For ever, O LORD, thy Word is settled in Heaven." (Psalm 119:89)
"But the Word of the Lord endureth for ever." (I Peter 1:25)
No.  God's heart is not always I Timothy 2:4.  You cannot dissect God like a biology frog.  You cannot take one of God's Attributes and pretend that is His only Attribute.  That is a caricature of God: It is an insult and mockery.  God made Adam in His Own Image, but most haughty humans think that they make God after their own image.  However, God replies to such deluded, arrogant people: "thou thoughtest that I was altogether such an one as thyself: but I will reprove [rebuke] thee, and set them [truth] in order before thine eyes" (Psalm 50:21).  
No.  God is not always I Timothy 2:4: "Who will have all men to be saved, and to come unto the knowledge of the truth."  Scripture also reveals:
"7...Jesus shall be revealed from Heaven with His mighty angels, 8In flaming fire taking vengeance on them that know not God, and that obey not the Gospel of our Lord Christ Jesus: 9Who shall be punished with everlasting destruction from the Presence of the Lord, and from the Glory of His Power." (I Thessalonians 5)
"But those Mine enemies, which would not that I should reign over them, bring hither, and slay them before Me." (Luke 19:27)
"11(For the children being not yet born, neither having done any good or evil, that the Purpose of God according to election might stand, not of works, but of Him that calleth;) 12It was said unto her, The elder shall serve the younger.  13As it is written, Jacob have I loved, but Esau have I hated." (Romans 9)
"24But He answered and said, I am not sent but unto the lost sheep of the house of Israel.  25Then came she and worshipped him, saying, Lord, help me.  26But He answered and said, It is not meet to take the children's bread, and to cast it to dogs [puppies] [in reference to the mixed child of this Greek-Israelite woman living in Cana / Syro-phenecia]." (Matthew 15)
"Give not that which is holy unto the dogs, neither cast ye your pearls before swine..." (Matthew 7:6)
These are not easy things to think about.  But God does not command us to obey Him and trust Him and acknowledge His Sovereignty only when we like what we hear.  This is not obedience; that is not trust.  I don't like the thought of anything suffering or being rejected.  But I am not God.  Those who reject what God said, in favor of what is more deludedly pleasing to self, are antichrist.
God loves the elect—His people.  You cannot force God to comform to carnal modern man's liberal antichrist mindset of affirmative action, the false notion of equality.   God declares,
"20Woe unto them that call evil good, and good evil; that put darkness for light, and light for darkness; that put bitter for sweet, and sweet for bitter!  21Woe unto them that are wise in their own eyes, and prudent in their own sight! .... 24Therefore as the fire devoureth the stubble, and the flame consumeth the chaff, so their root shall be as rottenness, and their blossom shall go up as dust: because they have cast away the Law of the LORD of hosts, and despised the Word of the Holy One of Israel." (Isaiah 5)  
God pronounces this curse on those who reject His Word, His declaration of what good is and what evil is—which never change—and upon those who cast away His Law (His Standard of Morality).
God is not feeble and cannot be forced into playing the impotent role of some blind befuddled senile doting old grandfather who equally loves all his grandchildren—legitimate or not, whether they bring him honor or shame; whether they honor him or rob him and rub poop on his moustache and set his beard on fire while he's sleeping.  
"9Know therefore that the LORD thy God, He is God, the Faithful God, Who keepeth Covenant and Mercy with them [of His people] that love Him and keep His Commandments to a thousand generations; 10And repayeth them that hate Him to their face, to destroy them: He will not be slack to him that hateth Him, He will repay him to his face." (Deuteronomy 7)
[That (or Isaiah 5:24 above) doesn't sound like "God's heart is always I Timothy 2:4" either.  Does it?]
No man cometh unto the father except through Christ.  
No man cometh to Christ except the Spirit draw him.
The Holy Spirit does not draw everyone; in fact, He draws only a few.  The wind bloweth where it listeth [chooses]... so is everyone who is born of the Spirit.
God draws only those whom He chose before the foundation of the world.  God is Sovereign.  Those who don't like that reject God because He first rejected them and closed their hearts and minds so that they would reject Him.  The solution is to bow before Him.  Those who refuse to, refuse to do so because He did not put it within them to so do.
We are to hate what God hates and love what God loves.  We are to love whom God love and hate whom God hates.  If one cannot tell the difference, then the only honest and coherent prayer would be:
"Father, if these people are your children, please pour out your Holy Spirit upon them and give the repentance unto salvation and Your holiness and power to turn from sin unto righteousness (and the understanding of what that is); but if they are not your children, if they are not of the elect, then please destroy them off the face of the earth so they can no longer afflict your people: the apple of Your eye and so that they no longer be a reproach to the Living God and pervert Your creation."
That is the only prayer God that can honor.  However, someone who does not know a sheep from a dog or a pig or a wolf is in serious trouble.  Someone who continues to offer the dogs equality with the children at the Master's table will himself receive chastisement from God—possibly the same chastisement as the watchman on the wall who falls asleep and does not sound the alarm: for it is little different to not sound the alarm, than to open the gates and invite the barbarians in to rape and kill and plunder.  Of course, some deluded souls who open the gates may think that the barbarians have "converted" and only want to "worship God" with us.  Zerubbabel, and Jeshua [The High Priest], and the rest of the chief of the fathers of Israel were presented with the same situation, and their response was: "Ye have nothing to do with us to build an house unto our God; but we ourselves together will build unto the LORD God of Israel" (Ezra 4:3).  God had commanded separation before the remnant even left captivity in Babylon.
God commands us to discern, not wear rose-colored glasses and think everything is the same when it is not.  God drew the boundaries.  Man continues to try to erase and redraw them.  Who is on the Lord's side? is the question to ask.  God rejected Saul and told the prophet Samuel who had star dust in his eyes for the big tall powerful Saul, God told Samuel, "Do not pray for him to Me, I will not hear your prayers.  I have rejected him".  A true Christian will conform his mind to what God has said and submit to Him; not attempt to wrangle the Scriptures into corrupt modern notions completely upside down and inside out from what God has said.  
Those who focus only on one attribute of God worship a false god.  To do so is similar to drawing someone's portrait, but the entire portrait merely being one nostril.  Such is not only an insult, but it is delusional  God is everything that He has told us that He is and He changes not.  "But without faith [believing that what God said is true and the only reality] it is impossible to please Him: for he that cometh to God must believe that He is, [that He is exactly as He has said that He is] and that He is a rewarder of them that diligently seek Him" (Hebrews 11:6).  "Diligently seek" means to crave, worship.  It does not mean to look for something and then when you find out it is not what you expected, to turn around and leave.  Those who do so never find the Pearl of Great Price, because they worship themselves, not God.  
"1This know also, that in the last days perilous times shall come.  2For men shall be lovers of their own selves, covetous, boasters, proud, blasphemers, disobedient to parents, unthankful, unholy, 3Without natural affection, trucebreakers, false accusers, incontinent, fierce, despisers of those that are good, 4Traitors, heady, highminded, lovers of pleasures more than lovers of God; 5Having a form of godliness, but denying the power thereof: from such turn away.  6For of this sort are they which creep into houses, and lead captive silly women laden with sins, led away with divers lusts, 7Ever learning, and never able to come to the knowledge of the truth." (II Timothy 3)
God is not merely those warm and fuzzy qualities that some people want to believe because their minds and hearts have been tainted by the world into thinking that good is evil and evil is good (which God places a curse upon).  Those who today believe that things that were considered sin, immoral, abominations 100 years ago, to now be "normal, healthy, "life choices" are not of God.  Their minds have been polluted by the world.  Those who eat only cotton candy will be weak and sickly.  God designed our bodies to need a well rounded diet: meat, potatoes, vegetables, grains (and not denuded of all fiber and vitamins so that it "looks pretty" and tastes only sweet.  Those who never progress from the milk of the Word to the meat (and meat has some grisly parts) remain infants.  If God was whatever each person imagined in his mind, choosing only the sweet cotton candy parts that appeal to him, God would be a billion different gods (which would be Hinduism) based upon how each person wanted God to be in his own mind.  God would be the creation of man and God would ever be changing upon each individual's whim and fancy.  God is not a Mr. Potato Head toy that each individual assembles according to his own pleasure.  Most modern Christians follow "Mr. Potato Head" Theology.
Your claim that we should "hate the sin love the sinner" is not found in the Bible.  The phrase was coined by Gandhi...!  (in his 1952 autobiography)—and Gandhi was not a Christian: he was a Hindu!   God says that He hates the soul that sinneth.  God won't send the "sin" to Hell, but the sinner.
"...Thou hatest all workers of iniquity." (Psalm 5:5)
"...but the wicked and him that loveth violence His Soul hateth." (Psalm 11:5)
The same anti-intellectual false doctrine (of love the sinner hate the sin) gave rise to "guns kill people."  The passage in Ephesians—"we wrestle not"—gives us the source of the evil, but does not negate the immediate manifestation of it.  "Woe unto the world because of offences! for it must needs be that offences come; but woe to that man by whom the offence cometh!" (Matthew 18:7).  Judas will not get a "free pass" out of Hell because Satan entered him.  Satan entered him because that is what God ordained (Acts 4:27,28).  Satan will be judged for tempting / influencing; man will be judged if he gave in to that temptation and sinned.  To claim that Ephesians says that our only enemy is in the spirit world is to render a large portion of the rest of Scripture (both Old and New Testaments) as nonsense.  Scripture also says that "in Him that we live and move and have our being" but that does not mean that we do not exist.  If the spirit world was the only enemy and the only culprit, no one would be responsible: Yet a large portion of God's Word (Old and New Testament, past, present, and yet to come) deals with Judgment—for God is Holy and that Holiness demands Justice / Judgment.  Scripture says that each will be judged according to the deeds committed in the body.  There is temporal (in this life) Judgment that God requires, and there is Eternal Judgment that God will require after this life.  If the only Judgment was that which was left to come, then the God would not have struck Ananias and Sapphira dead for lying to the Holy Spirit, and Paul would not have delivered Hymenaus and Alexander unto Satan that they may learn not to blaspheme, that the body may be destroyed though the spirit (if they were converted) saved.  The New Testament itself is replete with Judgment, putting away sin, excommunicating, shunning, taking matters before the ecclesiastical court, paying restitution, etc., if sin in this life was a "non-issue" that we are supposed to just overlook and ignore and "forgive" (whether the person wants forgiveness or has repented or not).  God commands us not to steal.  To let someone rob us or someone else, is equally a sin.  You really have never thought too deeply.  If someone rapes you and you decide not to prosecute—you then share in his guilt if he ever again rapes, steals, or murders.  While you may not care about those other victims, you being deluded into caring for the criminal more, I am quite certain that those other victims care about their own lives and don't want to be raped, robbed, or murdered.  What gives you the right to risk their lives, based upon some perverted notion of "forgiveness" which is not what the Bible talks about...?
Just because the electric current comes into your house through the outlet in your wall (and originates at some power plant many miles away), does not negate the reality and effects of the electric chainsaw in the hands of a wicked person who has broken into your house and plugged his quiet electric chainsaw into the outlet in your house to saw you into little pieces.  Satan can appear as an angel of light and his ministers as ministers of righteousness.  They are real—but so are their children; and Christ exposed the Edomite pharisees: "You are of your father the Devil".  If you do not understand the difference between God's enemies and His people, you act as a Trojan horse to bring God's enemies into the church to destroy the church from within.  However, contrary to modern practice; evangelism is not to take place within the church.  The church is only for confirmed believers.  Only those directly led to Christ by the elders, or those examined by them, or those who come by letter from another reputable church, only such people are to be admitted into the church.  The church is not a county fair or a circus.  The church is the ark of God and the Body of Christ and is not to be subverted (by bringing ALL the termites on the ark) and not to be defiled (by bringing in the dogs and swine being unequally yoked and fellowshipping with darkness).  Those who believe that the wicked should be brought into the church to "hear the Gospel" are friends of the world and God calls such adulterers and adulteresses.  If such persons were parole officers, would they bring rapists, murderers, and pedophiles home for dinner to meet the wife and kids?
I'm sorry, I don't know what "very technical Robert Balaicius?" is asking.  But I will try to address the question that you could not seem to formulate: Yes, God's Word is technical.  It's called Sound Doctrine.  Truth is technical.  Doctrine is what separates Christianity from humanism.  If something is watered down it is not longer useful and no longer truly what it was.  Salt, when it has been contaminated by not being separated, and thereby absorbing and being polluted by all the bacteria and mold spores and moisture in the air (also losing its chemical charge) is no longer salt, but a polluted salt-like mixture, and has lost its saltiness (that pure property that makes it salt) and is good for nothing but to be cast out in the street and trodden under foot.  Things are diluted or polluted to weaken them.  Yes, Christ will return to Judge.  Do you actually deny that?  Christ will not and did not take away the (Judgment of the) sins of the entire world, but the "world" in context of which Scripture was speaking: His own to whom He was sent; and even then not all of our own people will be converted, but only the elect.  Furthermore, if people who "claim" to be "Christians" live no differently than before they were "saved" and violate with impunity God's Moral Standard, the Bible says that they were never converted.
"26For if we sin wilfully after that we have received the knowledge of the truth, there remaineth no more sacrifice for sins, 27But a certain fearful looking for of Judgment and Fiery Indignation, which shall devour the adversaries.  28He that despised Moses' Law died without mercy under two or three witnesses: 29Of how much sorer punishment, suppose ye, shall he be thought worthy, who hath trodden under foot the Son of God, and hath counted the Blood of the Covenant, wherewith he was sanctified,* an unholy thing, and hath done despite unto the Spirit of Grace?  30For we know Him that hath said, Vengeance belongeth unto Me, I will recompense, saith the Lord.  And again, The Lord shall judge His people.  31It is a fearful thing to fall into the hands of the Living God." (Hebrews 10)
[* The Blood of the Covenant, clearly, refers only to those who are heirs to the Abrahamic Covenant, of which the Christic Covenant is part.]
—does this sound like "God's heart is always I Timothy 2:4"...?
Scripture is perfectly clear on this unless you take scissors and cut out all the verses that you don't like, and then you are left with a very Holey Bible.  Everyone isn't automatically saved.  The verses you quote above are off point and have nothing to do with the topic you introduced about Christ not coming back to judge.  The first time that Christ came to earth He came as a Lamb to save His people.  The second time He will come as a Lion to avenge His people of all that the wicked have done to them.  We are called to discern and yes judge, but not condemn our brethren concerning insignificant matters.  The parable of the wheat and the tares does not end with the tares being marvellously turned into wheat.  But at the same time, in the early growth, the tares cannot always be discerned (clever imposters that they are, after many generations of intermarriage with God's people and even "plastic surgery") from the wheat.  The terminal separation of the tares from the wheat and the casting of the tares into the fire (Eternal Judgment) is an act reserved for the angels at Christ's return.  But but that does not mean that we are to hold hands with the tares until then.  We can ostracize them from our family, our circle of friends, our church, and our community (if we still had a sovereign nation that recognized God's Law)... but we could not simply kill them for existing.  Neither does this mean that if they commit crimes worthy of death that they are not to be adjudicated and then executed.  You seem to look at one facet of a diamond, and then think that one solitary facet is the entire diamond.  If you applied this same illogic in other areas of life you would be completely dysfunctional, so why do you lose all common sense when it comes to Scripture?  What is even worse, not only do you not understand the Scriptures and violate God's Law and pervert judgment and righteousness—but you encourage others to join you in your sinning against God and the destruction of Christendom.  To do so is tantamount to letting all the wolves into the sheep pen, thinking, "God wants us to love wolves too"—and so you participate in the slaughter of God's sheep, our people.  Sin is not to be ignored.  Crimes are not to go unadjudiated.  Certainly if someone has committed a sin unto death, he should be given 5 minutes to prepare to meet his Maker—but he should not be set free with the hope that maybe he will "find God" in between killing and raping others.  Is that "technical".  If it is... GOOD!  As the old sayings go: "If you don't stand for something you will fall for anything" and "If you are broadminded it means your mind is in the gutter on both sides of the road".  Good intentions are meaningless.  Serving lemonade to the children at a birthday party and accidentally giving them strychnine is not an overlookable offence due to "good intentions".  Christ said,
"6But whoso shall offend one of these little ones which believe in me, it were better for him that a millstone were hanged about his neck, and that he were drowned in the depth of the sea.  7Woe unto the world because of offences! for it must needs be that offences come; but woe to that man by whom the offence cometh!" (Matthew 18)
Though Christ used little children as an object lesson, the focus of His discourse was not little children, but all those of God's people who have the simple faith of a little child—the pure in heart.  Those whose false doctrine, humanist, antichrist philosophy, and unbiblical actions that result in the rape, murder, oppression, and leading astray by false doctrine of God's people—are those whom Christ is referring to in the above verse.  If you want to keep forgiving criminals and letting the barbarians in through the gates, maybe you should have your neck fitted for the right sized millstone!
Nowhere in God's Word are tares converted into wheat.  Nowhere in God's Word are we commanded to love the tares as if they were wheat.  Tolerance of what God has rejected is nowhere found in God's Word.  Dogs, pigs, goats, and wolves are never turned into sheep.  Brambles, thistles, and briars are never turned into grapes or figs or olives.  
"There is no condemnation to those who are in Christ who walk not after the flesh but after the Spirit."  This verse itself implies that there is condemnation on:
1. those who are not in Christ; and
2. those who are in Christ but who do walk in the flesh and who do not walk in the Spirit.  
I really don't know what you are trying to say.  The Word of God is technical.  This does not mean that it is rocket science.  It is technical, but so is baking bread or a cake.  Try to bake a cake or bread without following the recipe, just adding whatever "feels" good.  Family order is technical.  Did your father never lay down the law?  Did your husband not lay down the law for your children?  Or do you just let them do whatever they want and if they do something terrible you just ignore it and "forgive" them, even if they commit what God calls abominations...?  The Word of God is not too technical to understand, but He did hide the simple truth from those who are not worthy of it: those who would not obey it even if they did understand it.  Every book author is technical.  The Law is technical.  The manufacture and operation of computers, electronics, and engines is technical.  Carpentry, math, science, geometry, chemistry, physics are technical.  Following instructions for 1,001 things is technical.  So why do you think that Christians should "check their brain at the door" when it comes to the Word of God?  That's why God wrote His Word down for us.  Because He is Holy and He commanded things to be done a certain way.  Because He is Holy and He is as He says that He is, not as sinful man wants to pretend that He is.  
We are not supposed to "make things up" because they "sound good to us"—that is humanism.  True Christianity is doctrine.  It is theology—It is what God said and it revolves around Him, not man.  True Christianity is not an "emotional experience".  Faith cometh by hearing and hearing by the Word of God—from the facts, the truth, the doctrine (the "technicality") in the Word of God as God gave it to us; not according to ever-changing modern liberal interpretations.  This same dishonesty of continually "re-interpreting" reality has gotten us in the U.S. into all our trouble, by likewise allowing criminals in politics to fool the idiot of the masses into believing that they understand the Constitution better than the ones who wrote it 250 years ago.  The same class of criminals in education and in churches has made the same spurious claim concerning their understanding the Bible better than those who wrote it under inspiration of the Holy Spirit over 2,000 years ago.
Faith itself is a gift of God, a fruit of the Spirit, and it is given only to the elect.  Salvation is a gift of God bestowed on His elect and faith initiates and perpetuates it and God distributes His faith only to the elect.  Woe unto them who call good evil and evil good, that put darkness for light and light for darkness, bitter for sweet... "Prove all things."  (What is that if it is not being "technical"...?)  The believers of Berea were considered noble—because they were "technical"—they searched the Scriptures daily to see whether those things they were taught were true; they proved all things; rightly dividing the Word of Truth.  
What is modernly called "Christianity" has strayed so far from the Standard that when the average Christian hears sound doctrine to him it sounds strange; even abominable.  Look back at our nations and civilization when the pure and true form of Christianity was taught and look what we have today.  The ills of society are a direct result of turning from sound doctrine ("technicality").  We are on the brink of destruction; the post-christian era and the new dark ages.  The only answer is to return to God and all those "technical things" (you know, "obedience") that He commanded.  "Why call ye Me, 'Lord, Lord' and do not the things I say?"  God cannot honor disobedience as if it were obedience.  God is True.  He cannot lie.  He cannot compromise.  "I am Yahweh and I change not, therefore ye sons of Jacob are notconsumed."  He is true to His Promise, otherwise He would have destroyed us all long ago.  
However, part of the Covenant is unconditional: He will never outright forsake us all; He has always preserved a remnant and always will (those who obey Him in Spirit and in Truth, in the spirit and the letter, all those "technical" things that those who are not of His sheep think "unimportant").  The Remnant that survives / persevered (the "patience of the saints" in) the coming Tribulation will be those who have the Faith / Testimony of Christ Jesus and who keep the Commandments of God (Revelation 12:17; 14:12).  
However, part of the Covenant is conditional upon how we live: If we obey, we will be blessed, if we disobey, we will be judged and chastened and even destroyed, even the majority of us.  One has to be technical with the Word of God because God is technical.  God "put a difference" between things and commanded us to recognize those differences as He established (Leviticus 10:10; 20:25; Ezekiel 22:26).  He meant what He said.  He always means what He says.
To speak sloppily and carelessly does violence to the Word of God and people who do so have no concept of God's Holiness nor that His Holiness demands Justice / Judgment and that it is an aweful responsibility to teach the Word of God—and it is not a role to which He has appointed women—and those who do so in error or without His authority shall receive the greater condemnation.  Yes it is technical because truth is technical.  If you say "love God's enemies" when God says to hate them, and when you say "don't punish people" when God commands Judgment on evil doers—then you lead simple-minded people astray if they are so dull-minded that they do not search the matter out.  That is why our land is full of antichrists and perverts and all sorts of other criminals.  It is God's Judgment on us and he is having us to reap what we have sown, because we have sown corruption.  Anytime that we want to stop reaping corruption we need to sow righteousness—true righteousness; not the color-blind, gender-perverse, antichrist tolerant counterfeit "righteousness".  
If a doctor is not "technical" and gives you just any generic medicine, with vague instructions concerning dosage it could kill you.  If an architect or builder is not technical and choosy and does not discriminate in choosing sound design and quality materials, properly assembled the building will collapse and people will die.  Evil criminals are not convicted due to "technicalities".  They immorally   evade justice because of "technicalities" and immoral "slick" lawyers who don't care about the law or holiness, but winning cases (regardless of the good people they destroy or the wicked people they help to prosper).
God is in the details.  He is as He said that He is and reality is as He said that it is; God and reality are not as well-meaning, but simple-minded people want things to be.  In reality, they cannot really be "well meaning" if they are in rebellion to what God commanded.  They then have merely a form of godliness but deny the power thereof; erring, not knowing the Scriptures; ever learning but never able to come to the knowledge of the truth.  Such people are to be ostracized, excommunicated, shunned.
Our will must submit to His.  All will eventually bow the knee, either out of purity of heart, or being forced to their knees as vanquished foes.  John the baptist introduced Christ to the people:
"11I indeed baptize you with water unto repentance: but He Who cometh after me is mightier than I, Whose shoes I am not worthy to bear: He shall baptize you with the Holy Ghost, and with Fire: 12Whose fan is in His Hand, and He will thoroughly purge His floor, and gather His wheat into the garner; but He will burn up the chaff with unquenchable fire." (Matthew 3)  
[Does that sound like God's heart is always I Timothy 2:4?]
Those who pick and choose only what suits them from the Scriptures (Smorgasbord Theology) have a twisted "gospel" (it is not "good news" but "psychotic news") and quite possibly they will hear Christ on the Day of Judgement, and they will then learn their error, but it will be too late:
"21Not every one that saith unto Me, Lord, Lord, shall enter into the Kingdom of Heaven; but he that doeth the Will of My Father which is in Heaven.  22Many will say to Me in that day, 'Lord, Lord, have we not prophesied in Thy Name? and in Thy Name have cast out devils? and in Thy Name done many wonderful works?'  23And then will I profess unto them, I never knew you: depart from Me, ye that work iniquity [lawlessness]." (Matthew 7)  
[Does that sound like God's heart is always I Timothy 2:4?]
Those who are not of God reject what God has said and instead heap unto themselves wrath:
"10Which say to the seers, 'See not'; and to the prophets, 'Prophesy not unto us right things, speak unto us smooth things, prophesy deceits'..." (Isaiah 30)
------------------
This person's posting at facebook also had the following picture and commentary after it.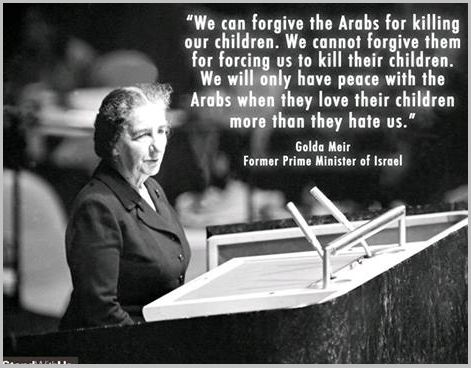 "Former Israeli Prime Minister Golda Meir said this years ago.  Incredibly, the sentiment remains exactly the same today.  Israel doesn't want violence in Gaza or with any of its neighbors.  Israel wants peace."
------------------
After I had responded with all of the above, I went back and responded to this disinformation.
"What a load of crock...!  Really...?  Maybe many misinformed people were foolish enough to believe that when Goldy said it; how many (who are not brainwashed / braindead, who have actually done some real study and see through such blatant self-righteous lies) still believe it today...?  Only mind-slaves (those brainwashed in the media and government churches and schools) believe* such condescending blasphemy.  They can forgive the arabs for killing their jewish children... but... the real crime was "making" them kill arab children...? how sanctimonious and double-faced.
[* —and "technically," is brainwashing truly a "belief"?  It is not really a belief, but a delusion; programming is not a conviction, but mind-control.]
What did the new prime minister of Israeli say just recently about 3 Jewish teenagers that were "allegedly" killed by Arabs? —
"Vengeance for the blood of a small child, Satan has not yet created.*  Neither has vengeance for the blood of 3 pure youths who were on their way to parents who will not see them anymore.  Hamas is responsible and Hamas will pay.  May the memories of the three boys be blessed."
[* That is, they will only be happy when some new method of torture is thought up that Satan himself had never even imagined... and by using that phrase he was quoting a Jewish writer; I will post info on this next...]
How magically Golda-Gandhi-Meir and others of her brood switch from this "touching display of forgiveness" to "NEVER FORGIVE!  NEVER FORGET!" and "WE WILL HAVE OUR POUND OF FLESH... —AND MORE!"
Further, many many of them claim that every single Palestinian child should be exterminated.  Goldy was lying through her teeth because the world had not yet begun to feel "their terrible power of the purse" and Christendom was not yet under their control... (because they had not yet thrown off the yoke of Jacob—true Israel: the Anglo-Saxon peoples of Christendom).  Some of the Jewish leaders (playing "Good Cop" wore (on special ocassions when the media was present) the "nice" mask* (hiding their true hideous features).  Others of them (like the current regime) make no pretense about it and wear their real Evil face.
[* This is how the Jews (and the Muslims) always behaved in the early days, when only a handful of them had infiltrated Christian society.  They were on their best behavior, so that more and more of their people could be let in; and then like hungry termites, they began their subversive work of undermining family, church, society, and state and then when their damage is sufficient, all masks come off.]
If you continue to confuse the Jews and Israelis with the Hebrews, Judahites, and Israelites (the true Semites) of the Bible, you will be terrible confused and violate the command, "call not evil good or good evil" and you will be guilty of blessing God's enemies to the destruction of God's true people, the remnant of the former nations of Christendom.
------------------
[Someone else had commented: Excuse me Golda!  Who invaded who????  Get your history straight honey!]