God and Evil: Did God Create Sin and Evil?
—Heresy or Hearsay?
(The Facts of My Imaginary Evanescent Heresy Trial)
The Death Knell of Arminianism at the Hand of the Word of God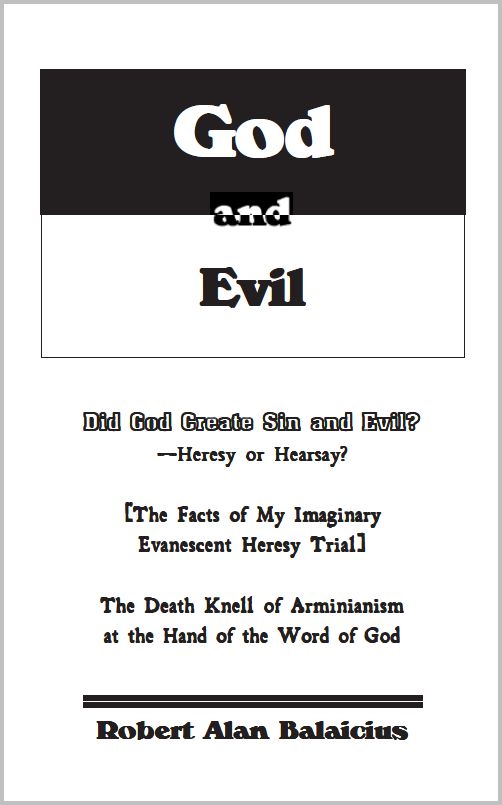 Robert Alan Balaicius
280pp., pb., 18.00 + P&H.
Profound... enlightening... entertaining... thought-provoking... possibly the most important theological work on this topic ever written.
I was attacked by another Christian minister, for one sentence in my book, The Sovereignty of God, Predestination, "Free Will," and the Protestant Reformation.  I was denounced as a heretick.  In 14 days, 14 hours a day, this book is the response God gave to me.  It, I believe, takes an entirely different position than most have taken on the topic, and explains things in a crystal-clear manner, humorously at times, with theology/doctrine and philosophy/logic that I believe is impeccable.  Thinking minds and searching souls I believe will find the book pregnant with profound thought and meaning.  I pray many will consider this work.  I don't expect everyone to agree.  All I expect or at least hope for, is a fair hearing.  I pray this work gets the circulation of which I believe it is worthy.  I don't believe it can be ignored and this my position and my book I believe should be presented in all theology classes in college and seminaries.  It is a major position which I believe has to be presented and considered.  Time will tell.  He must increase and we must decrease.  That in all things He may have the Pre-eminence.  Proverbs 18:13: "He that answereth a matter before he heareth it, it is folly and shame unto him."   God bless.  Robert