Sacred Truth Expository Commentary on The Gospel of John 18-21:
Passover, The Betrayal, Arrest, Jewish & Roman Trials, Crucifiction, Resurrection, Post-Resurrection, & Ascension of our Lord, and Pentecost, with a Harmony of the Gospels, the Making of the Apostle Peter, and the Intricate Depth of Irony Revealed,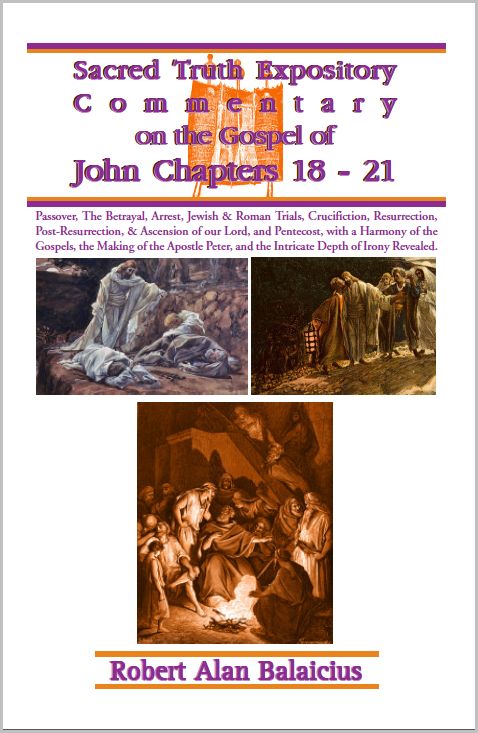 Robert Alan Balaicius,
800pp., illustrated, pb. 40.00 + P&H.
Many mysteries revealed no other commentator has uncovered, deep spiritual truth, verse-by-verse commentary, harmonization of Gospels, several charts, 1 fold-out, shows relation of half of disciples to Christ, Christ's genealogy, consultation of 60 other commentaries distilling their best valid thoughts, and much more. This book will be hard to put down (really, I put pressure-sensitive super-glue on the cover); incredible depth and insight, irony, intricate hamony of the Scriptures as a whole (not merely a harmonization of the Gospels); Pilate vindicated.  My magnum opus. No serious Bible student can be without this as well as my commentary on Genesis and Judges.  Bargain priced.  Same price as my Commentary on Genesis/Judges even though 100 pages more.