The War Between the Children of Light and the Powers of Darkness:
How the Christian-Israelite Can Live In An Evil World System
(Including the TRUE Story of the Phinehas Priesthood);
Robert Alan Balaicius 
506 pages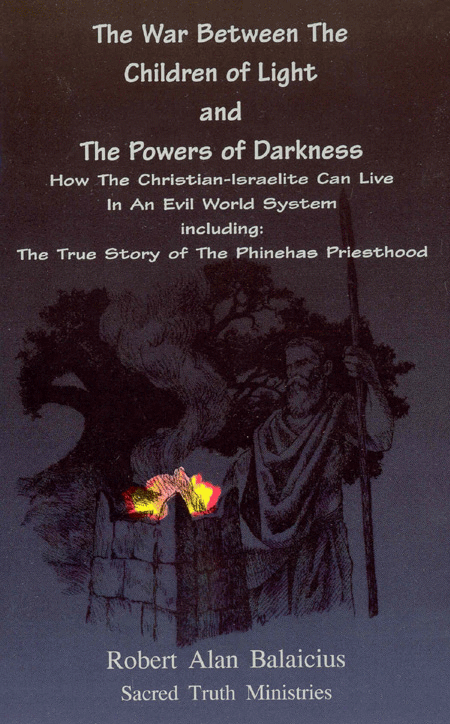 [Highly endorsed by Col. Jack Mohr & Eustace Mullins.]
No Patriotic, God-fearing Christian should be without the valuable information this book presents. Hard times are coming. Wise men see trouble afar off and prepare. Already proven to be a powerful tool of deliverance by thousands who've read it... a bold, profound, in-depth discussion of many thorny but vitally-important topics dealing with the Christian-Israelite's position in an ungodly world in which evil pervades and prevails. Errors of both extremes are refuted by sound Biblical interpretation, combined with logic and common sense. Some topics covered include: The Christian-Israelite and Hate, Militancy or Pacifism, Vigilanteism, Obedience to God or Subservience to Evil, the Difference between "Power" and "Authority," The True Story of the Phinehas Priesthood, Self-Defense, Dominion, Carnal Retribution or Divine Judgment, and much more. Information key to preparing for the Time of Jacob's Trouble and How the Remnant can Hope to Endure and Overcome is also discussed. Many other peripheral topics are explained with enlightening analogies, clear Hebrew/Greek exegesis, Bible numeralogical interpretation, History, God's Law, and much more. Packed Full of new, never-before-seen material, this book will soon prove to be one of the most powerful books of its time.  Credited with changing the lives of many who have read it.
paperback 20.00 donation + P&H;
Hardback 30.00 donation + P&H.
[Special: if ordering Uncovering the Mysteries..., (Hb. or pb.)

—take 25% off a copy of The War Between... (Hb. or pb.).]