Featured Book:
Highly Recommended!  An exciting read as well as insightful concerning the hidden powers behind corrupt government and historical disinformation.
Please don't just read this advertisement... order the book!  support ministries and patriots who sacrifice to provide this information.
Bulala Tagati!*
A True Story of South Africa
[* Bulala Tagati! means, "Kill the Wizard!" (i.e., the "original Dutch settlers").] 
by Cuan Elgin
[Robert Alan Balaicius, Editor, contributor]
392 pages (including 3 maps), paperback,
$18.38 + $5 shipping (within U.S.).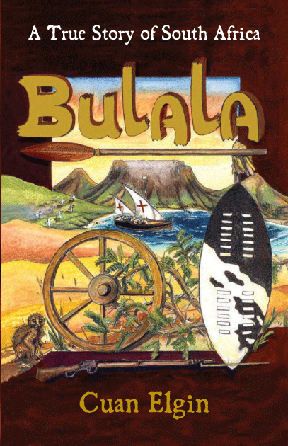 The gripping tale of the beginnings of a small, brave, Christian nation born of both extremes of the spectrum: conflict, turmoil, and tragedy as well as love, dedication, and hard work—this exciting historical account of the history of South Africa (from earliest times to the end of the 2nd Anglo-Boer War at the dawn of the 20th Century) is woven as a rich tapestry into the form of a novel. Dutch, English, French Huguenot, German, Indian, Irish, Koi, Malay, Portuguese, Scots, Xhosa, Zulu, and other peoples struggle with and against each other in this factual account, which depicts the events as they happened, as well as the beliefs in the hearts and the thoughts in the minds of those people during those times—yet while this moving saga reveals how and why things were done as they were, it does so without condemning or condoning behavior. The reader is free to draw his own conclusions and do his own moralizing. Deeply researched, the Scottish-Irish-descended South African-born author travelled over 15,500 miles [25,000 km.] across South Africa to every historical site mentioned in the narrative, in his first-hand investigative research. You will learn, laugh, and cry—but more importantly, understand the actual events which transpired in this controversial, southern-most African nation, without the bias of the media or the pressured slant of special-interest groups. Apart from being so highly entertaining that you will find it hard to put this book down, the historically accurate presentation will allow the non-South African reader to understand South Africa as well as it can possibly be understood by an outsider. Further, modern nations may possibly learn some lessons and avoid similar pitfalls which may threaten their domestic tranquility.
Eustace Mullins read it twice and said, "This is great; they ought to make a movie out of it".
Jewish author who grew up in South Africa, Ilana Mercer, author of, Into the Cannibal's Pot: Lessons for America from Post-Apartheid South Africa,  (controversial book by author not afraid to tell it like it is; Hb., 319pp., 25.00 + P&H) wrote of Bulala—

"Cuan Elgin is a rare breed: a born-and-bred South African man; an English-speaking Afrikaner, a Caucasian African, married to a tenth-generation descendant of hardy Trek-Boer pioneers; the dour indefatigable people whom Sir Arthur Conan Doyle described as "one of the most rugged, virile, unconquerable races ever seen upon earth."  Except that Cuan's "Bulala" is never dour.  Uneven, maybe—like the events it describes.  Infuriating perhaps too—in part because it pulsates with conspiracy and pooh-poohs politically correct conventions.  Nevertheless, Cuan writes with a great heart; his "Bulala" throbs with a passion for the South-Africa landscape and people.  In the true tradition of the African storyteller, he lives and breathes Africa.  And—also in the true tradition of the same storyteller—his voice is raw and real.  Men and authentic Boer women will delight in the action-packed, intertwined story of Boer, Briton and Bantu.  (The man knows his firearms!)  Decades of emasculation—legal and cultural—have created a hunger among modern men for heroic, historic narrative, fiction and non-fiction. The story of the South African settlers is every bit as epic as that of the American settlers. Despite their comparable foibles and frailties, the last haven't been blackened by historians as much as the first."
_________________
See also these similar, riviting titles:
Just One More Chance
http://sacredtruthministries.com/books/%E2%80%94-just-one-more-chance
A Rhino Crying — A Country Dying
http://sacredtruthministries.com/books/%E2%80%94-rhino-crying-%E2%80%94-...